So a while back I did a SERIES I'VE COMPLETED post and I thought I might follow that post up with a series I NEED to complete one. I have a lot of series started I've never finished, some I started a long time ago and some very recently. I'm only going to include books where there is at least one sequel out I haven't read!
This post is part of my 2017 challenge to complete ten series. I've finished seven series so far (Passenger by Alexandra Bracken, The Young Elites by Marie Lu, Mistborn by Brandon Sanderson, Penryn and the End of Days by Susan Ee, Shades of Magic by V.E Schwab, Legend trilogy by Marie Lu and Sky Fall trilogy by Shannon Messenger) So I need to finish three more from my list.
THE SERIES I NEED TO COMPLETE
1: THE ENEMY BY CHARLIE HIGSON
So this is a completed seven book post apocalyptic/zombie ya series which I've read the first five books of (THE ENEMY, THE DEAD, THE FEAR, THE SACRIFICE, THE FALLEN). I love how this series is set up – basically all the kids in this book are arranged into different crews and gangs, but their stories intersect all the time and effect the world as a whole and it's just SO CLEVER.
I hate myself a lil about this series – it was my favourite as a kid, and I wanted to finish it but to do that I had to reread the WHOLE THING because I'd forgotten what happens in the first four books. So I reread five of the books this year, and now that I'm finally up to the actual bit I haven't read before I stopped reading and STILL haven't finished the last two books (THE HUNTED, THE END) I really want to end this series before 2018 rolls around.
2: A SONG OF ICE AND FIRE BY GEORGE R.R MARTIN
Yeah shame me if you must, I'm the last person to read Game of Thrones. I've read the first two (A GAME OF THRONES, A CLASH OF KINGS) but I haven't felt motivated to pick another one up yet. Unpopular opinion but I like the show so much more, because it's more fast paced. I want to finish the next three books eventually, because I like the series overall and the world building is amazing, but I'm not in the mood for it right now.
Also, I don't want to borrow it from the library because I won't be able to read it before I have to return it, which means I need to buy it. I refuse to buy them full price because they're always at op shops – I have A Feast for Crows and A Dance with Dragons and A Storm of Swords PART TWO. The only one I need is part one, and I can't keep reading until I have it.
3: PERCY JACKSON AND THE OLYMPIANS BY RICK RIORDAN
SHAME ME. JUST GO AHEAD AND DO IT. I am definitely rhe last person to read PJO. It's so popular and well loved and I really want to get into it, but I've read The Lightning Thief twice and never felt compelled to continue. The series isn't long so I feel like I should just binge it all or something but I haven't been motivated to do that yet.  I really do want to read this, mostly because I want to read his other more recent series? And also because I want to feel like a real member of the book community.
4: LEVIATHAN TRILOGY BY SCOTT WESTERFELD 
I read the first book from this trilogy last year and really liked it but just … never continued? It's a steampunk history retelling about World War One and has all these amazing illustrations through which I really liked. The first book was really cute and had adorable, well written characters and I liked how there was a female inventor character. Anyway, I really want to finish this series eventually, I just don't know when. I still need to read book two BEHEMOTH and book three GOLIATH
4: THREE DARK CROWN SERIES BY KENDARE BLAKE
This one I don't feel guilty about since ONE DARK THRONE has only just come out, but I do plan on possibly continuing this series just to see if book two gets better?  I wasn't super jazzed about book one but I think the series does have potential to improve.
5: SAGA GRAPHIC NOVELS BY BRIAN VAGHAUN
I've read parts one, two and three of SAGA and really liked them. I think this series is super fun and the characters and really cool, plus the art is STUNNING. The only probem with the series is it can be a struggle to get my hands on them, since I don't really want to buy them. I want to continue this series, so if I come across the next part I'll try read it asap.
6: THE WINNERS TRILOGY BY MARIE RUTKOSKI
I've only read the first book (THE WINNERS CURSE) in this series and I didn't really like it much? This series is really popular so I might try the next books (THE WINNERS CRIME, THE WINNERS KISS) just to see what the hype is about but it isn't super high priority for me. I thought that the first book was just okay and I didn't love the slave romance trope in this.
7: AN EMBER IN THE ASHES TRILOGY BY SABAA TAHIR
Urggh this series haunts me. I liked AN EMBER IN THE ASHES, but I've been """currently reading""" A TORCH AGAINST THE NIGHT for nearly 12 months and it's really not progressing along at all. I think I need to accept I have no interest reading it, at least for now, but I can't bring myself to. Because I really WANT to love this series – it has so many elements I love. I think the r*pe aspects of the plot put me off a lot and I don't know .. I just don't feel motivated to finish this right now
8: THE GENTLEMAN BASTARD SEQUENCE BY SCOTT LYNCH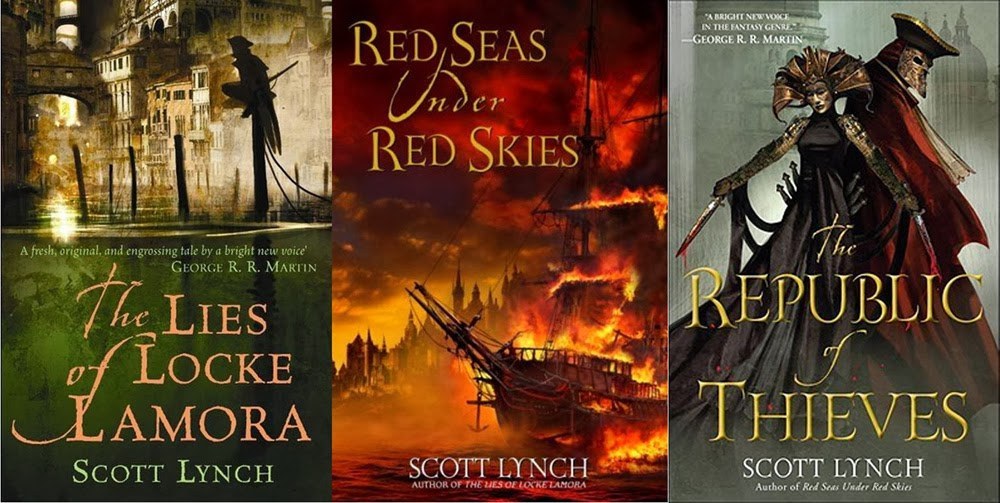 I only just started this series so I don't feel a tonne of guilt about it being here. I want to read the next two books RED SEAS UNDER RED SKIES and THE REPUBLIC OF THIEVES soon because I think the world in this series is super complex and I'll forget what has happened if I leave it too long between books. This is supposed to be a seven book sequence but it's been out for 10 years and there is only three so far so I could be waiting a while to finish this one.  I know the fourth book has a cover and is supposed to be out possibly 2018?
9: SHADOW OF THE TEMPLAR BY M. CHANDLER
I read the first book in this series, THE MORNING STAR, this year and liked it but I'm wary to keep going forth because of the ways the books are written in the future. I know this series has a lot of use of homophobic slurs by it's gay characters and I just … urgh. I want to continue on with this series but that element puts me ALOT off. I'm not sure when I'll get around to finishing but I kind of want to eventually. I still need to read DOUBLE DOWN, WITH A BULLET and HIGH FIDELITY
10: CAROUSEL BY BRENDAN RITCHIE
I received these books from Fremantle Press and really enjoyed book 1. I'm actually planning on starting book soon after I finish Daughter of Smoke and Bone. These books are post apocalyptic/dystopian and set in a shopping centre and were a tonne of fun for me so I'm excited to read and review the sequel.
11: THE TRIBE TRILOGY BY AMBELIN KYAWMULLINA
I read the first book, THE INTERROGATION OF ASHALA WOLF earlier this year and thought that was really well written and had some great characters so the sequels are on my get to list for eventually. The next one is called THE DISAPPEARANCE OF EMBER CROW and the final one is called THE FORETELLING OF GEORGIE SPIDER so I'm hoping to get to those soon
12: THE ABYSS SURROUNDS US BY EMILY SKRUTSKIE
I LOVED the first book in this series and have been planning on reading the sequel AT THE EDGE OF THE ABYSS sometime soon but again, it's super hard to get my hands on. I think I'm gonna have to just buy it, so I'm hoping I can buy it over the summer when I'm working full time and have more money to spend on books. But I adored book one and really want to read this soon!
13: NEMESIS DUOLOGY BY APRIL DANIELS
I read DREADNOUGHT this year and the sequel NEMESIS has only recently come out so I don't feel too bad about not reading it yet but I want to soon. The first book was pretty good and I definitely would like to see how Danny's story is rounded off.
14: THE STAR TOUCHED QUEEN COMPANION SERIES BY ROSHANI CHOKSHI
This is a series I realllyy need to complete ASAP. I read THE STAR TOUCHED QUEEN last year and gave it a four star so I've been meaning to buy and read A CROWN OF WISHES but as with everything so many plans so little time. I do hope I can buy this one soon (I own book one because it's stunning and I want the pair) and read it before 2017 ends. Lots of people said book two was even better then book one.
Those are all the series I plan to finish currently on my tbr! I have some more uncompleted series, but they're ones I don't plan on finishing
Let me know which ones of these I should prioritise! I need to choose three to complete before 2017 ends so I finish my challenge. Right now I'm thinking I'll finish The Abyss Surrounds Us, Carousel and then either The Enemy or The Star Touched Queen
Thats all for my series today! How would you feel about a series I won't complete post? I'm thinking that will be the one I do next for my series chats.