Summary:

my rating:

 4.5 stars
distributed by: Netflix
genres: romantic comedy, teen drama
content warnings: discussions of sex, alcohol us
I've never done a movie review on this blog before but I decided I needed to do one for To All the Boys I've Loved Before. I adored this film so much, and have seen it multiple times since it came out on Friday. I just wanted to talk about it with everyone. I have also read the book which I loved, but I enjoyed the movie just as much, if not more.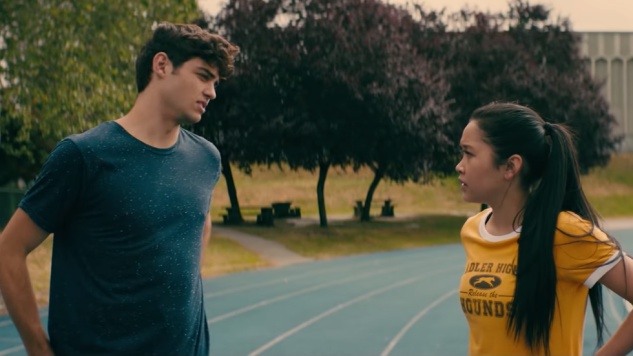 To All the Boys I've Loved Before managed to capture the best of the romcom genre without ever making me have second hand embarrassment. The execution of the tropes was flawless, with just the perfect amount of fake and real dating mixed together to make you root for and invest in the romance whilst also feeling like the slowburn was maintained. The chemistry between Noah Centineo (Peter Kavinsky) and Lana Condor (Lara Jean Song Covey) was palpable, and that chemistry really carried the romance. Both of them were equally good alongside eachother, and their scenes together perfectly captured the cute, sweet relationship I was looking for from this movie. The entire movie felt so wholesome, with the two of them being so obviously enamoured with eachother, it was both heartwarming and frustrating to watch them struggle to communicate that to eachother.
Lara Jean is the perfect protagonist for me. She's introverted and unknown at school but she's not exactly unpopular. She's the middle child, feeling too young to be responsible but too old to be babied. She has to step up but feels as if she's not trusted. And she much prefers the safe world of book and movie romance, where you can enjoy the feelings and the relationships safe from the threat of being hurt from love or baring your soul to someone yourself. And all that felt so relatable. The scene after the party stood out to me as a scene that really spoke to me, and I think it speaks to many people who struggle to make connections with people outside the safety bubble we've established.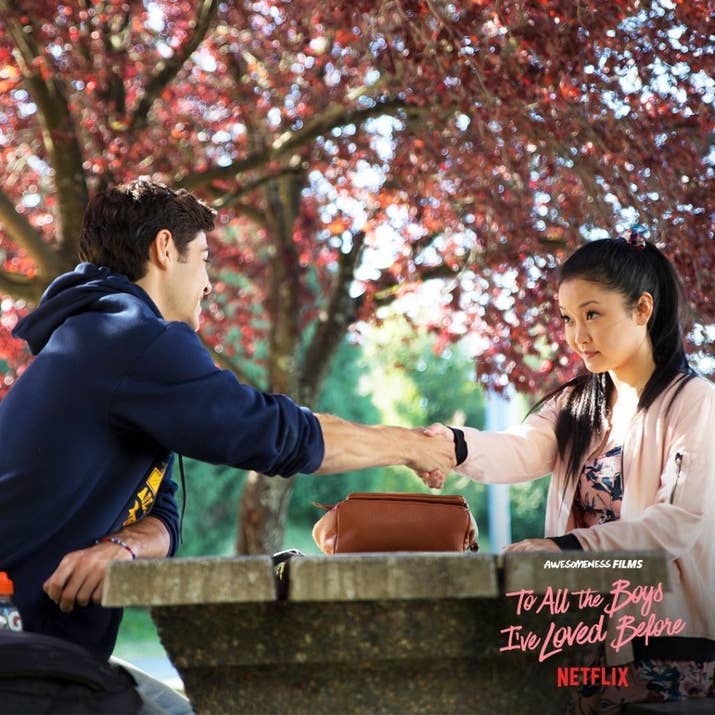 While the plot could have been convoluted, with all the letters and fake dating contracts and outside characters, this movie managed to condense them enough to make the plot coherent whilst also exploring a broad range of ideas. I was delighted that Lara Jean's complicated feelings about the passing of her mother, and the relationship with her sisters, was kept in the movie.
To All the Boys I've Loved Before also felt so current, so authentically teen, which I loved. Casual mentions of seeing something on a snapchat story, the emphasis on using social media to carry a relationship and the background images on the phone felt so in touch. Even the high school scenes were perfect. They captured the drama of high school without being over dramatic and cliche.
However, there are some flaws I feel need to be discussed. First of all, it should be noted that none of the main actresses are Korean, and in fact all the actresses for the sisters are different ethnicities. This is an intra-community discussion I won't touch on too much, but while it's great Asian-American's were cast, it's disappointing Korean-Americans were not. Furthermore, much of the emphasis on Lara Jeans relationship with her culture was erased or brushed over. The sisters call themselves the "Covey Sisters" rather than the "Song sisters" despite this being important to them in the book.
I also thought the characterisation of Genevieve was poor, and frankly out of place in this film which is modernised in all other ways. The use of the "mean girl" trope was a discredit to this film. While this film felt so modern, that element felt so stuck in 90s romcoms and Gen's character fell so flat compared to Lara Jean, Margot, Kitty, Peter, Lucas and even Chris. I would have loved to see them do something less predictable and less overused.
Overall, To All the Boys I've Loved Before is a triumph of the genre. Beautifully shot with perfect casting, the palpable chemistry between the leads and the mixture of both fun romantic tropes and more complex family issues made this film really stand out from other fake dating romcoms. I am thrilled to see some Asian-American representation on screen and can only hope it continues. Both Noah Centineo and Lana Condor are stars, and I cannot wait to see them in whatever they do next.
until next time!