Hi all, to keep with my end of year posts, today I'll be talking about my least favourite books I read in 2019. I also did my most disappointing books post already, but these are the ones I truly disliked reading. I have seven books to talk about, so let's get into it. These are in no particular order, I truly disliked them all.
1: The Unhoneymooners by Christina Lauren
I was SO ready to love this book. It started off great and fun and then the second half … was not it. I didn't like this couple and the drama was too much. I honestly just found this book to be a heterosexual mess and I just really didn't care about anything that happened in the second half. I was so glad when this book was finally over.
The first half IS fun, which is why I didn't completely hate it, but this book really wasn't it for me.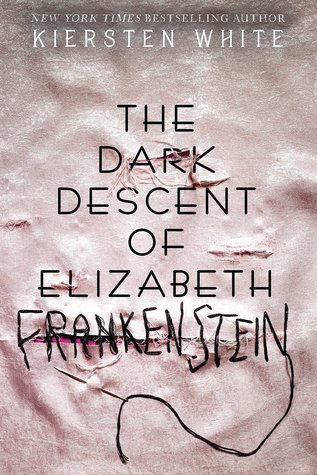 2: The Dark Descent of Elizabeth Frankenstein by
Kiersten White
I was SO excited for this book. I love Frankenstein and previously really liked Kiersten White's Conquerors Saga. But this was …. not it. I didn't enjoy reading this and I kind of wished I'd dnf'ed it, because it took me SO long to read for such a short book. I found what White did with the story boring and kind of predictable. None of the characters really interested me and I felt like Frankstein was almost a caricature of how he is in the original. Anyway, I just didn't really enjoy this and what it was trying to do didn't work for me.
3: The Music of What Happens by Bill Konigsberg
If I wasn't listening to this on audiobook, I would have dnf'ed it. I HATED so much about this book. The main character was one of the most annoying characters I've ever encountered. Like, I genuinely usually don't hate characters, but wow I hated him a whole lot ! There was also just some real questionable shit in this book, like a white author writing a character who is a poc being like 'actually, poc should stop complaining about racist microaggressions being used against us' HMMMM. I liked the first maybe, 20%, but after that I truly found myself rolling my eyes every time something happened. MESS.
4: I, Iago by Nicole Galland
I don't even know why I finished this. I wish  I had dnf'ed it and saved my time. I started it and thought it was extremely boring. I didn't care about any of the characters or what the author was trying to do with this retelling. But I read into the second half and I hated that EVEN MORE. This book was just a mess, it didn't do anything interesting with the retelling, it reinforced the worst tropes of Othello while trying to redeem Iago (for no good reason) and I just really regret I took so much of my time and energy reading this.
5: The Death of Noah Glass by Gail Jones
I had to read this for university and I just didn't get it. I remember I had to read it at a very stressful time (in the middle of a move) and I was trying to fly through it for the class which isn't the way to read this book and it was just horrible. I hated my time reading it and didn't understand anything that was happening because I was reading it so quickly. I found it boring and meandering and dull and even though it has nice writing, my memories of this book will always be bad.
6: Hard Times by Charles Dickens
I had previously read A Tale of Two Cities and thought I would like Hard Times. I wanted to read more Dickens and this is a really short book for Dicken's. It's a political satire about industrial towns and I thought I'd like it. But I HATED it. I didn't really get it and I found it so confusing. None of the satire or humour really worked for me, and I finished it wondering if maybe me liking Dicken's that one time had been a fluke.
7: These Rebel Waves by Sara Raasch
Look, this book isn't exactly bad. It's just so boring and so bland and so long for no reason and I disliked reading it. I pretty much speed skimmed the entire second half because I cared about one character (Vex) but even he wasn't enough to save this book. I also thought this book made some extremely questionable choices with it's gay main character, and the whole 'we suffer endlessly and always until we die because we're gay' thing just wasn't it. I was so so glad when this book ended.
And that is my top seven worst books of 2019. I'd love to hear what you thought of these books, and what books you disliked in 2019. Stay tuned for my favourite reads of 2019, because that one is up next!
until next time